Bio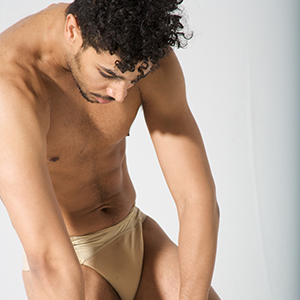 Dancing is the hidden language of the body and soul…
Barrington Hinds is from West Palm Beach, Florida. He began his training at the School of Ballet Florida under the direction of Marie Hale, and also attended Alexander Dreyfoos School Of The Arts. Barrington holds a BFA in dance from SUNY Purchase College and has also trained at the Taipei National University of the Arts during a semester abroad in Taiwan.
He has worked professionally with VERB Ballets, the North West Professional Dance Project, and performed in the ensemble of the national tour of Twyla Tharp's Broadway show, Movin' Out, where he understudied the lead role of Tony. Hinds was also honored as a finalist for the Clive Barnes Award for young talent in dance for his performance in "Stager Lee," a section in Stephen Petronio's Underland.
He has worked with leading choreographers including Laurie Stallings, Edgar Zendejas, Sarah Slipper, Helen Pickett and Thaddeus Davis. Barrington is currently dancing for the Stephen Petronio Company, which he's been a member of since 2008. In addition to dancing, Barrington has joined the staff at Ballet Tech, Eliot Feld's ballet school in New York City, as well as becoming a faculty member of the renowned Blue Lake Fine Arts summer dance program.

I believe creating movement is one of the purest forms of expression…
Personal Style
My personal aesthetic and ideas about choreography are strongly rooted in the organic feeling that I get when I move in space. As a dancer and choreographer, I am able to use my body by moving it and molding it to create and show what I want. My movement and choreography usually come from the subconscious. I am always allowing it to grow and take different paths. Instead of harping on a concept or literal idea, I allow myself a vision with no restrictions, letting the process unfurl, then going back later and redefining that vision. The style of my movement consists of three main qualities, the first being an Asian influence, the second being the many forms of human gesture, and finally the sounds that are made from movement.
Choreographic Intent
To explore the rawness of movement allowing the audience to feel and partake in something that is primordial, connecting us all, dancer to viewer, viewer to dancer. To engage in the simplicity of movement and the complexity of gesturers, layering them both, yet having moments of disconcerting stillness.